SUBMISSION FORM
The 64th Annual
JAPAN PRINT SOCIETY (JPS)Exhibition
Date: 11/18/2023-11/24/2023
Hours: 9:30-17:30 (Enter by 16:30) Last day: closed at 15:00 (Enter by 14:00)
Venue:Tokyo Metropolitan Art Museum(Ueno Park,Taito-ku,Tokyo,Japan)
Qualifications
Entries from artists of all ages and nationalities are welcomed.
Rules pertaining to submitting artwork from outside Japan are detailed below.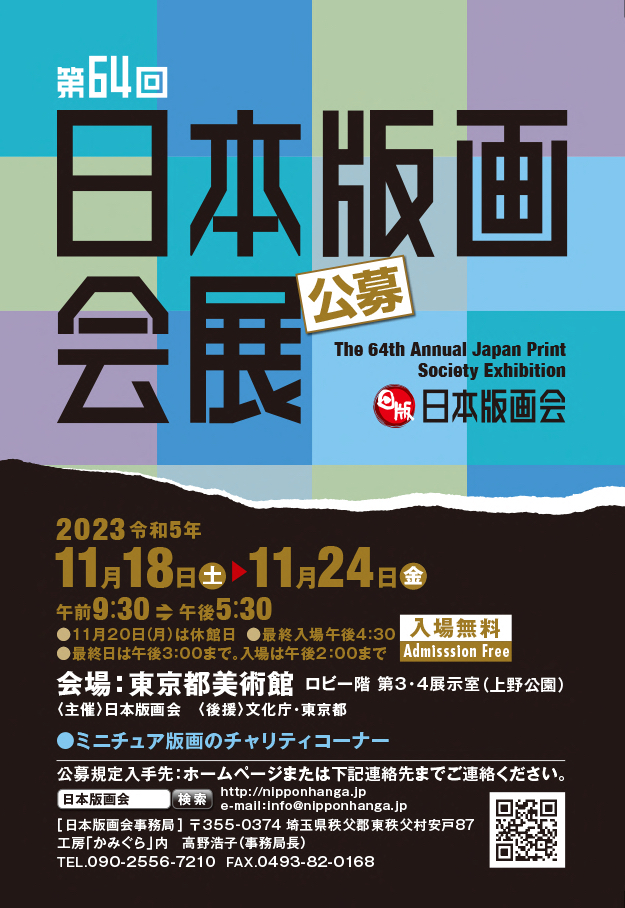 Judging
All entries will be juried by the Selection Committee of the Japan Print Society.
Selected artworks will be hung in the museum by JPS's staff.
The prints judged to be the best of all the submissions will receive prizes.
Artworks
All works submitted must be in a print medium ( woodblock print, copper print, lithography, silk screen; no digital print or photographs, however.)
The entries must be new works that have not been exhibited before.
A maximum submission of three pieces will be accepted.
Special Rules for those submitting from abroad
Artists submitting works from outside Japan incur no entry fee.
Maximum paper size is 50cm x 70cm.
When submitting work, it should be sent unframed.
Shipping Method; Overseas entries should be sent by air mail, preferably by Express Mail Service(EMS), marked as "Printed Matter" and bearing the declaration for customs: "No Commercial Value-Exhibition Only".
Important Notice: Do not indicate a value for the prints.
Insurance of the artwork and shipment costs are the responsibility of the applicants.
Other Pertinent Information
While great care is taken to preserve the submitted work, if it is damaged during shipping or by a natural disaster, Japan Print Society or its members cannot be held responsible.
During the exhibition, the artwork will be displayed either unframed or temporarily framed.
Please mail artwork with the "PRINT LABELS" attached firmly with tape to the lower left corner on the back of the artwork. The completed "ENTRY FORM" should be mailed with the prints.
Submitted works are assumed to be donated to the Japan Print Society and so will not be returned.
Works should be sent to the address below, arrive between September 20th and September 21th, 2023.
Download
Entry Form Print Labels
If you do not have Adobe Acrobat Reader, please get the latest version from Adobe's website.
The 63rd Annual Japan Print Society Exhibition Winners
Exhidition address
Secretariat JAPAN PRINT SOCIETY
87, Yasudo, Higashichichibu-mura, Saitama, JAPAN
355-0374
E-mail: info@nipponhanga.jp
Fax: +81 493-82-0168